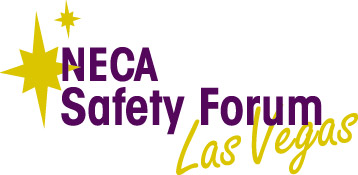 Saturday, September 29-30, 2012
The electrical industry is rapidly changing requiring electrical contractors to be at the cutting edge of safety and health requirements. Clients are demanding evidence of effective safety performance and the integration of safety and health management systems to jobsite safety. Safety and Health has evolved from a regulatory drive activity to and business development tool. The safety forum will serve a new captive audience whose primary role is safety, health and risk management. Other safety forum participants are more diverse in nature, ranging from business owners, project management staff and supervisory personnel seeking to enhance their knowledge on safety and health.
Saturday, September 29-30, 2012
Sunday, September 30, 2012
Friday and Saturday September 28 and 29
Note: The Safety Forum is only $125 with your full convention registration

Weekend packages are also available, to learn more click here

Or, A La Carte:

Member $250
Non-member $599

Add Opening Reception tickets for only $200 more!