Opening Reception: Sunset Beach Party!
Sunset Beach Party – sand in your toes, music in the air!
Saturday, September 29, 2012
7:30pm–9:30pm
Mandalay Bay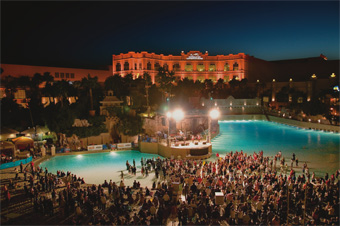 Welcome to the Mandalay Beach, a world-famous playground with a wave pool, lazy river, three swimming pools, and 2,700 tons of real sand… right in the middle of Las Vegas….
As you enter Mandalay Beach, you will be immediately transported to a place where you can kick off your shoes, let your hair down and enjoy the night!! From the tiki bars, to the sand sculptures to the fall breezes in the air, this is the time to kick back and relax.
Head to the ultra lounges where you can chill while sipping tropical drinks and take in the sounds of our entertainment, playing the hits of the surf culture, from the Beach Boys to UB40, from Blondie to the B52s there's something for everyone!
Check out the cabanas along the pool, where theme vignettes are abound, from Elvis and his showgirl sidekicks, to Marilyn in all her glory.
As the night progresses, you'll find yourself drawn to the surfside, where the water is cool and the music is hot. Dip your toes in the water and enjoy an end of summer farewell concert and dance the night away.
The sights and sounds are everywhere, from Fire Twirlers to a Limbo King and side shows all around! The menu tonight is fun and festive, with the thrill of the grill and grab and go food stations everywhere! There's even something for the kids with a Wonka style candy buffet and sand games!
So get your flip flops on, get your surf style ready and unwind the night away…. Beach Style!!!