NECA Energy Forum - A Great Opening Act For NECA Las Vegas 2012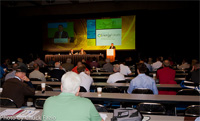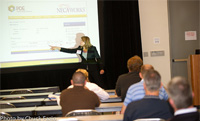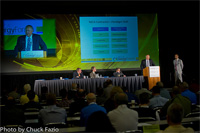 Saturday, September 29, 2012
1:00pm – 5:30pm
Mandalay Bay
Want to make the most of your time in Las Vegas? Want to learn about the hottest topics in energy efficiency and business development? Make plans to be at the Energy Forum on Saturday, September 29 starting at 1:00 pm. And, best of all, if you have a full convention registration, access to the Energy Forum is included!
Electrical contractors offer the solutions for all the emerging technologies affecting building performance, operating costs and occupant productivity. The 2012 NECA Energy Forum will explore the many ways NECA contractors are growing their businesses by expanding into the energy solutions market. The Forum, hosted this year by NECA Vice Presidents Stan Lazarian (District 9) and Dan Schaeffer (District 7), opens at 1 p.m. with keynote speaker David L. Pogue, Global Director of Sustainability for CB Richard Ellis, Inc., speaking on the sustainable energy practices that can make a real difference in the costs of property management and how electrical contractors can connect with owners and managers.
Following the opening keynote, Rob Colgan, NECA Executive Director of Market Development will moderate a panel discussion on "Opportunities in the Energy Solutions Market: Technology and Policy Shaping Tomorrow." Leaders from across the business community will provide insight and perspective on the energy solutions market. Representatives from wholesale merchandising, electric vehicle manufacturing, and the academic community will share their knowledge about specific electrical contracting opportunities in their business sectors.
A second expert panel on "Developing New Business for Electrical Contractors" will complete the plenary content for the Energy Forum. NECA contractors from across the country will discuss the different ways their companies implemented business development programs to pursue and get energy solutions work. No two methods are exactly the same; each strategy reflects the unique strengths and goals of these individual NECA contractors. NECA Director of Market Development Mir Mustafa will moderate the panel and field questions from participants. The business development panel will appeal to contractors with established business development strategies who want to expand, as well as to contractors who want to get started.
"Energy solutions work and business development go hand-in-hand. You can't be successful in one without the other," said Stan Lazarian, chair of NECA's Energy Solutions Task Force.
"Electrical contractors shouldn't just hope that this work finds them one day. We have to be proactive," said Dan Schaeffer, chair of NECA's Business Development Task Force. "The Energy Forum helps contractors put all the pieces together to go where the industry is moving by putting technical knowledge and business development tactics together at one event."
ABOUT THE 2012 NECA ENERGY FORUM: The 2012 NECA Energy Forum is an intensive Saturday afternoon program featuring an outstanding keynote speaker and expert panels that will inform and inspire NECA contractors to grow their businesses through energy solutions. The Forum will conclude just in time for the Green Energy Challenge finalists' presentation, the annual NECA Student Chapter design competition where some of the brightest young minds from across the country present their energy solutions to the NECA audience and judges.
Your energy solutions education at NECA 2012 Las Vegas doesn't have to stop with the Energy Forum. A series of related management workshops and technical workshops are offered throughout the Convention and the NECA Show.
The NECA Energy Forum was launched in 2011 to deliver industry-specific information about the market opportunities and business process of energy solutions work to electrical contractors. The NECA Energy Forum has become an integral part of the NECA convention and tradeshow experience and will continue to address topics like building automation and controls; energy efficiency; electric vehicle charging; energy storage; lighting retrofits; smart grid technology; solar/PV; and wind generation.
The 2012 Energy Forum is available for individual registration or is included with your with full convention registration for NECA 2012 Las Vegas, and will be held Saturday, Sept. 29, 1:00 – 4:15 p.m., at the Mandalay Bay Convention Center in Las Vegas.