General Sessions
Opening General Session
Joe Scarborough & Mika Brzezinski
Sunday, October 30, 2012
10:15am–11:30am
Mandalay Bay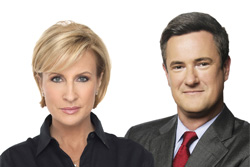 Joe Scarborough & Mika Brzezinski Co-hosts of MSNBC's Morning Joe
Any weekday morning on MSNBC, you can catch in-depth analysis of the day's biggest stories, political buzz, and timely interviews with top newsmakers. What you won't hear is the one-note pitch of the echo chamber that so many other political talk shows seem to inhabit. That's why Morning Joe has been called "the thinking viewer's choice."
On Morning Joe, the hosts and guests genuinely, thoroughly, discuss the news. And they debate it and laugh over its absurdities, hour after hour. The primary hosts are Joe Scarborough (an opinionated conservative and a former Republican congressman who served Florida's 1st district from 1995 to 2001) and Mika Brzezinski (a moderate liberal and the daughter of Zbigniew Brzezinski, the national security adviser during the Carter administration in whose household world affairs were a constant presence).
Scarborough made a name for himself in Congress through his service on numerous committees, including the Judiciary, Armed Services, Government Reform and Oversight, Education and the Workforce, and National Security Committees. In April 2003, he embarked upon a television career with the launch of Scarborough Country on MSNBC, until he began hosting Morning Joe full-time in July 2007. He has published two critically-acclaimed books, Rome Wasn't Burnt in a Day and New York Times best-selling The Last Best Hope: Restoring Conservatism and America's Promise.
Mika Brzezinski is also a best-selling author with two books, All Things at Once and Knowing Your Value: Women, Money and Getting What You're Worth. Prior to joining MSNBC in January 2007, she was an anchor of the CBS Evening News Weekend Edition and a CBS news correspondent who frequently contributed to CBS Sunday Morning and 60 Minutes.
This talented team will share their quick wit and winning insight on the state of national and global events with NECA?Conventioneers during our Opening General Session. And, they'll do it in the same breezy, off-the-cuff, unrehearsed style that has injected a jolt of fresh air into the world of morning news. Prepare to be informed, enlightened and entertained — all at once!
Labor Relations Special General Session
Monday, October 1, 2012
10:00am – 11:30am
Mandalay Bay
Along with innovation, workforce development continues to shape our evolving industry. NECA will take a hard look at the labor relations issues that matter to our members in a special session, bringing together the local and national leaders that make the decisions and tough choices that keep our industry moving forward.
Closing General Session
Peter H. Diamandis
Tuesday, October 2, 2012
09:00am–10:15am
Mandalay Bay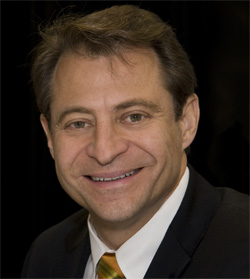 Peter H. Diamandis
Chairman and CEO, X PRIZE Foundation
Dr. Peter H. Diamandis, a key figure in the development of the personal spaceflight industry, knows something about exponential technologies and the tools of collaboration that are allowing each of us to transform industries and address humanity's grand challenges. For over 30 years, he has educated corporations, philanthropists and entrepreneurs on what it takes to drive innovations and breakthroughs in their own organizations.
With degrees in Molecular Genetics and Aerospace Engineering from MIT, as well as an M.D. from Harvard Medical School, Diamandis founded or co-founded many of the leading entrepreneurial companies in the commercial space arena, including Zero Gravity Corporation, the Rocket Racing League and Space Adventures. He also founded Singularity University to teach leaders about technology and innovation. He recently authored Abundance: The Future Is Better Than You Think.
He also runs the X PRIZE Foundation, which leads the world in designing and launching large incentive prizes to drive radical breakthroughs. Best known for the $10 million Ansari X PRIZE for private spaceflight, the Foundation is now launching prizes in Exploration, Life Sciences, Energy, and Education.
Diamandis will share stories of innovations that are changing the way we think, work, and educate future generations with NECA Conventioneers. He will also discuss intelligent risk-taking, maverick thinking, and environments where failure is allowed and celebrated. His personal motto: "The best way to predict the future is to create it yourself!"